The Rachel's Vineyard Minnesota team is on a mission to bring hope and healing to people who are hurting. It was a privilege to assist them in their mission by facilitating a website redesign. In addition to optimizing for SEO, coordinating with their writing team, and improving their content organization, we worked together on several major visual and functional site updates.
SEO Optimization
Updating the content on the site was important. Not only is it more user-focused and structured, it helps the site to be optimized for relevant internet searches. Better on-page search engine keywords were incorporated into the messaging and helped to achieve these results.
The site has improved its SEO indexing through alt text on images, metadata on key pages, RankMath configuration, and SEO scoring.
Mood Board Layouts
For the design, a couple of mood boards options were provided to help to direct the look and feel. The first was softer, more pastel, calming, and reflective. The second was brighter and more colorful, conveying movement, growth, and hope.
Their choice was the latter, and with color updates, the addition of grapevine graphics, and input on what images to use, the pages were ready to be laid out.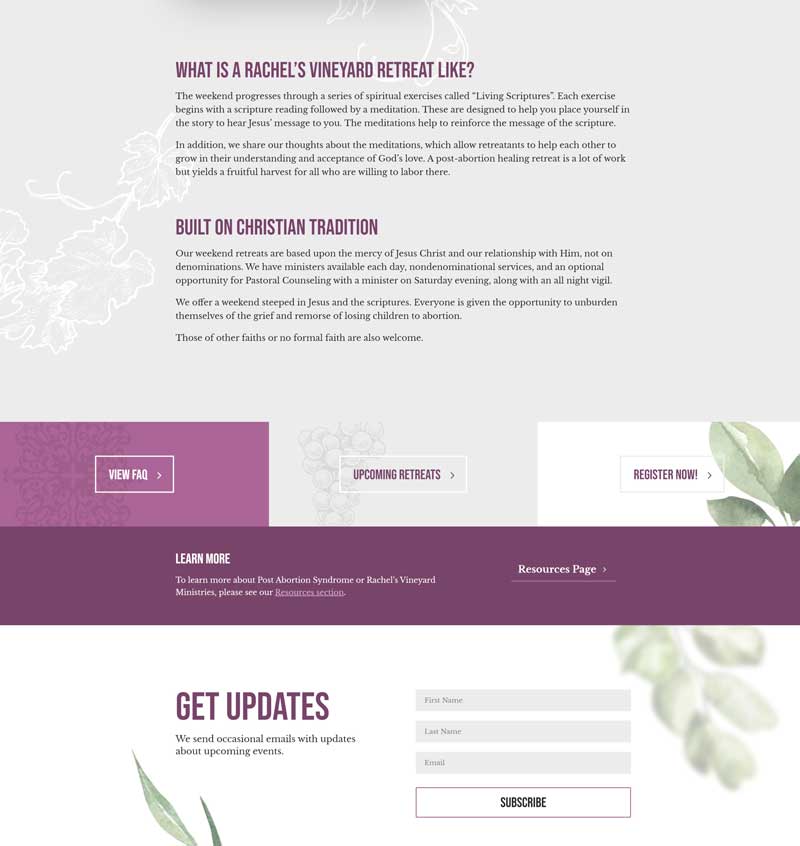 Elegant, Modern Design
The site came together beautifully. The design is congruent with their branding and most importantly communicates the spirit of their retreats. The content is user-focused, easily navigable, and effectively makes use of SEO keywords. And finally, the site is up-to-date, mobile friendly, functional, and fast.
We're excited with the new Rachel's Vineyard MN website! They are sharing their hearts and lives with others and bringing about restoration and healing to those who have been affected by abortion.